The winner of our Blog Launch giveaway is
Crazy Homeschool Mama
... we picked a random winner via Random.org and the random number picked was 35!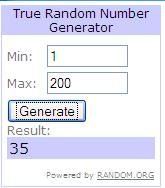 To kick off the launch of the Homeschool Toolbar Blog we are giving away a pretty nifty prize!
Discovery Channels Planet Earth!
An $80 Value
This version is exclusive to the Discovery Channel Store.
More than five years in the making, Planet Earth redefines blue-chip natural history filmmaking and continues the Discovery Channel mission to provide the highest quality programming in the world.

Award-winning actress and conservationist Sigourney Weaver narrates this 11-part series. You'll be amazed by never-before-seen animal behaviors, startling views of locations captured by cameras for the first time and unprecedented high-definition production techniques.

Features:

11 episodes and bonus materials
A behind-the-scenes look at the equipment, technology and danger that went into the making of this incredible series
Behind-the-scenes featurettes on each episode
Bonus disc featuring 'The Future' documentary – a three-part companion series revealing the vulnerability of the natural history of earth.
Format: DVD
Number of Discs: 5
Run Time: 10 hours 3 minutes
Plus the Best of Discovery Collection Volume 4
Valued at over $75 (if purchased separately), this fourth edition of the Best of Discovery series includes 4 DVDs featuring four of Discovery Channel's recently acclaimed programs including "A Panda is Born - Baby Pandas first year"!
Format: DVD
Number of Discs: 4
Run Time: 5 hours 44 minutes
Entering this giveaway is super easy!

Complete any of the tasks listed below, you will receive one entry for each task that you complete.


You must leave a separate comment on this blog for each entry/task completed.

Follow this blog via Google Friend Connect ( Click follow button on the right sidebar)

Share this giveaway on your Blog (use our button code)


Share this giveaway on Facebook (link our URL)
You must leave a separate comment for each entry.

Winner will be chosen via Random.org. All entries will be checked for authenticity.

Giveaway ENDS November 15th, 2009.
Winner will be announced here, and emailed
(your email MUST be in each comment/or enabled in blogger)
. Winner must contact us within 48 hours or we will choose a new winner.
Thank you for taking part in our Homeschool Toolbar Blog Launch Giveaway!